Whether your bathroom is a relaxing sanctuary away from the hustle and bustle of day-to-day life or a purely functional space, it can become an extremely dangerous room when mixed with electrics. Here's what you need to know to stay safe…
Creating a safe yet stylish sanctuary in your bathroom
The bathroom has evolved to become much more than just a functional place, with sensory lighting and smart tech taking it to a whole new level. It will come as no surprise that water mixed with electrics is a dangerous combination. That is why it's pivotal to put safety first.

Whether you're looking to add a LED smart mirror or an intelligent shower that sets the perfect temperature as soon as you turn it on, you'll need to consider the electrical work required. At this point, we would always recommend that you speak to a registered electrician (such as those registered with NICEIC) who can clarify the extent and nature of the electrical works required.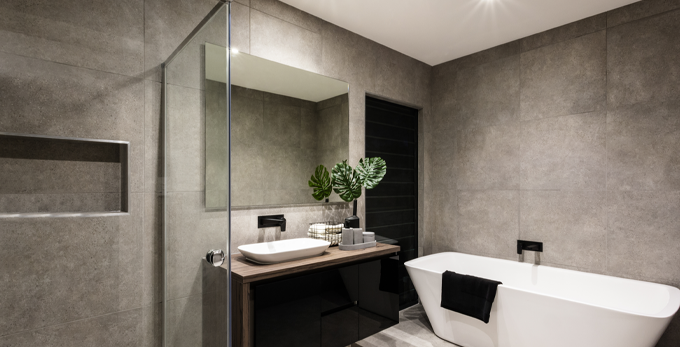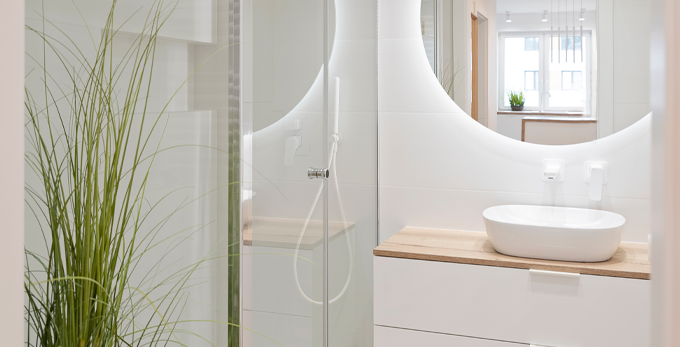 Don't get caught out! The do's and don'ts of electrical work in the bathroom
Do:
Always use a registered electrical contractor, such as those with NICEIC.
Purchase all electrical appliances from reputable retailers (preferably from a bathroom specialist).
Ensure all electrical items are designed for use in a bathroom – this includes your lighting, gadgets, appliances and all cables.
Don't!
Do it yourself! We know it is tempting, but trying your hand at DIY electrics is not a clever idea, especially in the bathroom.
Overlook the importance of an extractor fan.
Choose just any electrician! Choosing a registered contractor, such as those aligned with NICEIC, is the best way to ensure that the work carried out is safe, up to scratch and compliant with all regulations.
Things to ask your chosen contractor
Does the required work needs to be notified to the local building control body to comply with Part P of the building regulations? (England and Wales only)
If it does make sure you understand if your electrician is able to self-certify their work and if they will handle the certification on your behalf.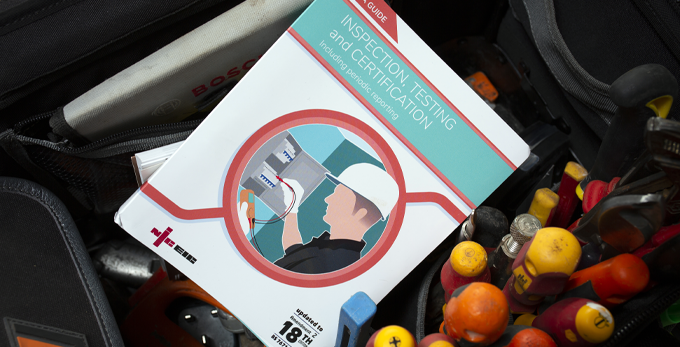 Good to know:
If your contractor is registered with NICEIC's competent persons scheme they can self-certify their work and can notify building control on your behalf, saving you both time and money.
Special considerations in the bathroom
There are 3 bathroom electrical zones that have been identified in the IET wiring regulations and these are:

Zone 0

Zone 1

Zone 2

Outside the Zones

Zone 0 is quite basically, anywhere inside a bath, basin or shower itself. It's defined as 'any area within a bathroom that can hold water'. Any fitting or appliance used within zone 0 must be a maximum of 12 volts (SELV) and fully protected against both partial and total immersion in water (minimum rating of IPX7).
Zone 1 in simple terms, is often labelled the 'splash zone', where installed equipment is likely to get wet but would not necessarily be submerged. The area directly above Zone 0 to the height of 2.25m from the bottom of the bath or shower is Zone 1. It also covers the width of the shower cubicle or length of the bath. Any fitting or appliance in Zone 1 must be IPX4 (splash-proof) or better, and have a maximum of 12 volts (SELV) with the transformer located beyond Zone 2.
Remember, Zone 1 does not include Zone 0.

Zone 2 is the area stretching to 600mm outside of the bath or shower, whether above or to the sides of each. This is typically the area that is least likely to get wet but there is a possibility for it to be splashed. Any fitting or appliance within Zone 2 must be IPX4 (splash-proof) or better, and have a maximum of 12 volts (SELV) with the transformer located beyond Zone 2.

When the size of a bathroom extends beyond Zones 0, 1 and 2, portable equipment can be used if its flex length does not enable it to be used in Zone 2. For instance, a hairdryer can be installed in the outside zones, as long as its stretched length does not allow it to be used in Zone 2. Although installing electrical equipment beyond Zone 2 is permitted without an IP number, it is always encouraged that electrical items have some sort of mechanical and moisture protection.



How do I know my current bathroom electrics are safe?
Over time the electrical installation in your home will deteriorate. If you detect any of the below it is time to call in a trusted NICEIC contractor who, if required, can undertake an inspection and provide an EICR (this is essentially an MOT of your electrics).
Noticeable damage to plugs or sockets.
Fuses blowing or circuit-breakers tripping.
Sounds of 'arcing' (buzzing or crackling).
Disturbances in the shower or heating supply.
Flickering lights despite changing the bulbs.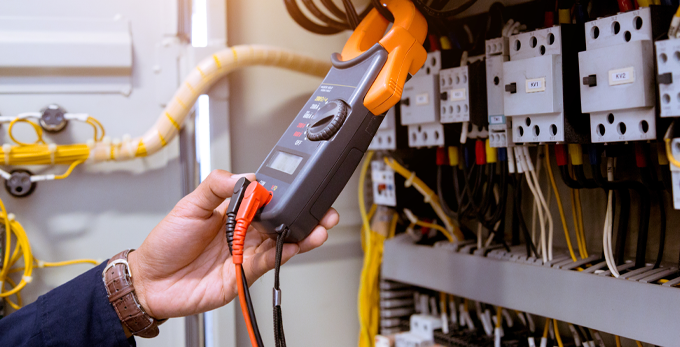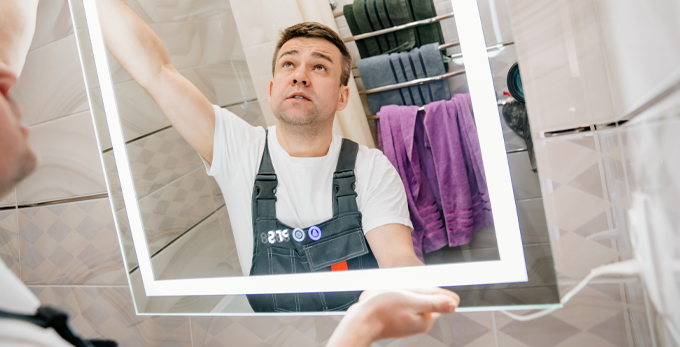 How often should I get my electrics checked?
There is no legal requirement surrounding electrical safety checks in privately owned homes. However, NICEIC recommends that you get an EICR carried out every 10 years. For rented properties, this will be subject to different regulations.
Good to know:
Due to the increased risk of water mixing with electricity, the bathroom is potentially one of the most dangerous rooms in the home. The chances of electrical shock occurring in the bathroom are increased – so extra special care must be taken when dealing with work in this area.
Get the professionals in
It is vital that the work is undertaken and carried out in accordance with the current wiring regulations to ensure maximum safety. Choosing a NICEIC contractor is the best way to ensure the advice you receive is sound and the job is carried out safely and to a high standard.
Through ongoing regular assessments, NICEIC-registered contractors demonstrate that their work meets the required technical standards, and that their knowledge is up-to-date and sound.
For more information on electrical safety in the bathroom, check out Electrical Safety First's top tips!