Delivering technical support to the industry throughout Autumn 2023
Throughout Autumn 2023, "ASK NICEIC" on the road took over a selection of wholesaler branches on our Tech-Tour of the UK. NICEIC technical experts hit the road in our custom-built tour bus for this series of FREE CPD-accredited events. The series has now concluded for this year, but watch this space for more events to added to the calendar in 2024.
Read on to find out more this series of events...
"ASK NICEIC" on the Road
At each event, our experts delivered a 45-minute CPD accredited seminar session on either Electrical Energy Storage Systems or Testing, Certification and Reporting to Amendment 2. After the seminar, there was the opportunity to grill the team, network, and ask questions.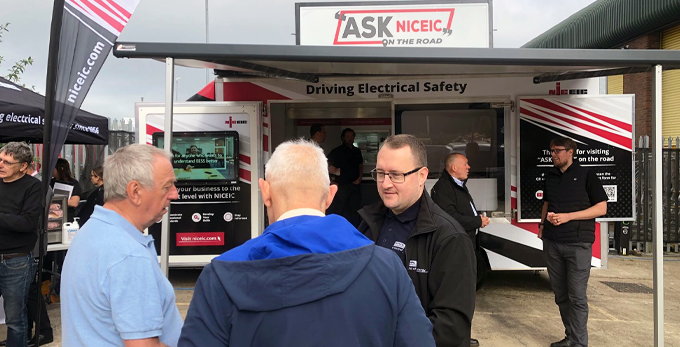 Flexible Sessions
For this series of events we scheduled multiple sessions throughout the day, so contractors could access technical support in their local area, at a time that suits.
Designed with contractors in mind, our aim was to deliver technical support across the industry which is convenient and accessible.
Watch this space for more events to be added to the calendar in 2024.